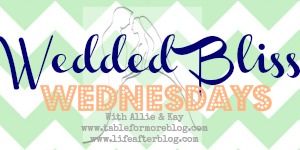 We've only been married for a little over a year so we're not experienced veterans or anything, but I still thought it would be fun to participate in this link up!
I know I have many years ahead with much to learn, but this is where I'm at right now! :)
1. If you could give one piece of advice to any married (or soon-to-be married) couple, what would it be?
Make an effort to put God at the center of your relationship. Take time to pray together and seek out opportunities at your church. Spend time talking about God and your faith. The devil is constantly trying to attack our relationships, and God is the only one who can help us stay on guard and have a strong marriage.

For those who are soon-to-be married - do not stress about wedding planning!!! It is supposed to be fun...remember that you are marrying your best friend and focus on the excitement in that!

2. What is an absolute MUST for any marriage/relationship?
Sacrifice - We must be willing to put each other's needs first, the way that Jesus laid down his life for us. I know God smiles down on us when we go out of our way to do something for each other. It's the small sacrifices that contribute to a positive marriage...Thomas picking up groceries on his way home from work, helping me clean after dinner, and helping me with my schoolwork. It's the little things we do that show each other we really care about one another, even when we'd much rather be doing our own thing.

3. What is the #1 no-no in a marriage?
Making your partner feel inadequate - I am so thankful for a husband who constantly encourages me and builds me up, and hopefully he feels the same way about me.
We try hard to make each other feel special every day, and it
makes me really sad to see couples who put each other down. It is never okay to hurt your partner's feelings by saying something negative about them.

4. What is the biggest lesson you have learned from your marriage?
This may just be a personality issue, but be willing to sit down and talk out your issues. Things work out a million times better when we sit down to talk or pray when we disagree. I am definitely one who avoids conflict and would rather just ignore the problem, but things are so much better when I push past the desire to avoid issues and talk about them.
I am so thankful to be married to the love of my life and my best friend! Off to go spend some more time with him! :)
Love,
Caitlin