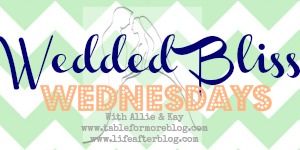 I am linking up with Allie and Kay again for Wedded Bliss Wednesdays!

What is the best gift to give your husband? He is really easy to please and acts like anything I give him is an awesome gift, so it's hard to say. I tend to think it's sentimental, homemade gifts, but that might just be because that's what I like getting. :) I also think he really appreciates anything soccer related or experiences we can do together.

What is a meaningful gift that you can give that does not cost money?
He loves anything sweet, so all I have to do is bake something and it makes him happy! But I suppose that does cost some money for the ingredients, so I'd also say massages, love notes, at home date nights, and just time spent together.


What is the best gift you have given to him? I asked Thomas, and he said the scrapbooks I made him. I made him one for our one year dating anniversary and one for our one year wedding anniversary...I guess I kind of slacked off on making them in the years between! I thought the best gift was a book of 100 things I love about him.

What is the best gift he has given to you?
I am pretty sure Thomas is the best gift giver, especially when it comes to sentimental things. He puts so much time and love into gifts and definitely knows how to make me feel special. One of my absolute favorites is a newspaper he has made me for several Valentine's Days called "The Valentine's Times." He writes stories about us and things we have done, puts in pictures, and even goes as far as putting in advertisements related to things we have done and crossword puzzles all about our relationship. Another favorite is a scrapbook of love song lyrics that make him think about me. And for our
one year anniversary
this year, he made me a guidebook to one year of marriage. Seriously though, I have a whole box of sweet gifts from him. There is no topping him in the gift department! He is so, so creative, and I love that he's able to put together such nice things for me without breaking the bank.
What are you giving this holiday?
I can't tell because he'll see it on here! But in all honesty I have not come up with an idea yet! His birthday is coming up in November, so I have to think about that first! :)