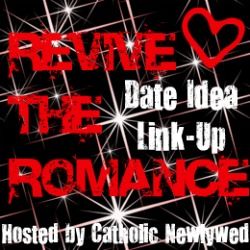 I am linking up with Mandi's Date Ideas, so check out her link up for more fun ideas for dates!
We love planning dates for each other, and some of my favorite ones have been holiday themed dates. The Christmas dates we did were probably my favorite, but I am going to write about one we did last year for Halloween/fall since that is coming up sooner than Christmas.
Take a ride together to a local farm. Check out the animals, go for a hay ride, and pick out the perfect pumpkin.
If you want to do something different, try painting your pumpkin instead of carving it! Head over to the craft store with your significant other (with coupons) to get some fall colored paints. When you get back, wash the dirt off the pumpkin and dry it well. Plan out your design, draw it with pencil, and then paint over it. Drink some apple cider together while you paint, and enjoy the evening hanging out together.
You'll have to let it dry over night, but in the morning you'll have a pretty pumpkin to display outside of your front door! You can top off the stem with a bow if you'd like!
Then, you can turn it into another at home date when you cut into the pumpkin after Halloween and cook the seeds. :)
Love,
Caitlin