It is absolutely unbelievable to me that our whole first year of marriage has gone by already! There is no doubt that it's been the most absolutely wonderful, beautiful, exciting, blessed year of my life. I am thankful for my dear husband in ways that words could never even express. The year started off with our wedding day, and I could not have asked for a better day to begin our marriage!
We were surrounded by loved ones, the planning fell right into place, and we were full of so, so much joy and excitement about that special day and our future together.
Thanks to my generous in-laws, we were able to go on a honeymoon to Kauai, the most beautiful, magical place in the world. It was such a special week spent exploring breathtaking places, relaxing on empty beaches, and reveling in the fact that we were finally married!
When we left the airport from our honeymoon to drive four hours to our new apartment, we had first struggle as a married couple! Our car broke down on the side of the highway in the pitch black with no cars in sight. We were stuck out there for almost three hours waiting on a tow truck, so we just sat there naming every single little thing we loved about our wedding day and honeymoon. We didn't get home until almost three in the morning (Thomas had to go back to work the next day), and while it was a definite test of patience, we couldn't even get mad about it because we were so excited
about being newlyweds!
We moved to a new city away from our families into our first
apartment together. Living together has been one of the most exciting parts of marriage. It's so much fun getting to spend time with each other every single day, and I feel so blessed to have someone who is so patient and understanding of me and my bad habits. I also loved spending the first few months without furniture, and then I loved picking out furniture together and decorating, making the place feel like a home. We've certainly created so many precious memories together here in our first year!
Thomas started a new job and I started graduate school. We have supported one another through
our successes and challenges, seen each other at our best and worst, and have offered one another constant encouragement. It's been so awesome to experience all of these huge life transitions together! I am grateful to have someone so sweet to talk to about everything that has happened during my day every night, and even more so for all of the hugs!
We found a church in our town that has truly enriched our marriage. We have done several couple's Bible studies together and have grown tremendously in our faith. We have met so many wonderful couples who have provided us with wisdom and guidance. More importantly, we have been working towards keeping God at the center of marriage and loving each other with Christ's love.
We have both gained new family members through our
marriage, which means more love, more exciting experiences, and more people to learn from and share our life with.
We have had the excitement of celebrating our first holidays as a married couple, blending the traditions of both of our families and creating some of our own.
So many big, wonderful have happened throughout the past year, yet I truly cherish the little moments in our marriage more than anything else...
snuggling up to watch a movie in the middle of the day on a weekend when we have absolutely no plans for the day,
getting stuck at home in a hurricane,
building forts,
waking up to each other every morning,
laughing over complete cooking or baking disasters,
getting excited about seeing each other in the evening,
baking cookies together,
building each other up, dreaming about babies and life after this town, deep conversations on our runs, rapping in the car, sneaking smiles at each other during mass, playing soccer tennis, laughing about a silly fight, going out for late night milkshakes, looking through our wedding and honeymoon pictures and reminiscing on sweet memories, slipping notes into each other's lunch boxes, date nights at home, kisses, being so ridiculously goofy together, grocery shopping together, evening walks around the pond to feed the ducks, praying together before bed, love texts during the day, driving around to look at massive houses just for fun, game nights, and so much more!! I really wish there was a way to
remember every little thing about this year!
It has been a year full of adventures and so much more love
than I deserve.
We heard so much about how hard the first year of marriage is before we got married, and while we've had challenges and fights over the stupidest things, I really wouldn't call it hard. It has been amazing. So, so, SO amazing, and I am thankful for every moment of it. Regardless of whether or not we are loving life together because we're still in the "honeymoon phase,"
God has been pouring out his mercy and unending grace. He has truly blessed us with each other and with
a wonderful first
year of marriage.
I pray that we will glorify God through our marriage and
continue to encourage each other to grow closer and closer to him. I hope we will continue to strive to love each other more wholly and completely throughout the next year of our marriage and the many years to come. I am so excited to see what the future holds for us! The best is yet to come!
Happy Anniversary to my best friend and the love of my life! Thank you for all you do to make life together so special. <3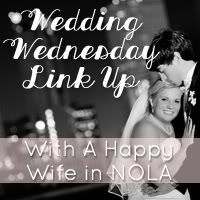 I am linking this up with Mary's blog! Check it out for more wedding related posts! :)